Someone You Should Know
Jun 04, 2021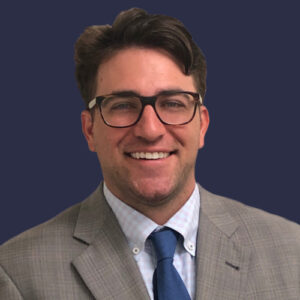 A professional both on the golf course and in the Boca Raton office, Jeff Evanier is passionate about everything he does! His work ethic and desire to help his clients truly make him a leader in the industry.
Please read Jeff's story below.
My greatest passion, golf, lead me to Florida and ultimately to ASB Financial. Today, I put that same passion to work building relationships and helping my clients plan for their futures.
Hailing from Connecticut, I was excited to leave the snow behind me and head down to Florida to attend Eckerd College in St. Petersburg. There, I pursued a business degree while playing golf at the collegiate level—competing at the NCAA Men's Golf Championship as an amateur and being named a Ping Division II All-American. Once I graduated, I turned professional and pursued the dream of being on the PGA Tour. Having success winning the Rhode Island Open, Connecticut Open, and traveling around the world playing in many events, including being a part of PGA Tour Latin America and PGA Tour Canada, I was ready for a new challenge and the next phase of my life. While I still am active as a professional golfer and play in events when my schedule permits, ASB Financial was the perfect place for me to utilize my college degree and also help my community by providing sound solutions to life's uncertainties.
I take great pride in making ASB Financial's mission statement—to leave a client's home better off than when we got there—my personal responsibility. My clients appreciate my friendly personality, knowledge, and thorough attention to detail. These qualities allow me to effectively educate clients on the available options and help them create a completely customized strategy for retirement and their legacy. For me, the most rewarding moments are when I hear a client tell me that they're so glad that I simply spent the time to help them with these seemingly complex matters. I love knowing that I can give someone the peace of mind that they are protected against all of the "what ifs" life can throw our way.
The future at ASB Financial is bright as we continue to grow and become a household name in Southeast Florida. I have been blessed with a great opportunity here in Boca Raton to not only help my community, but to also train and develop other like-minded agents who have a passion for serving others. Having a large portfolio of companies to choose from gives us the ability to have a true "servant's heart" and provide our clients with the absolute best plans and programs to meet their needs. My goal is to alleviate the "insurance salesman" stigma in our industry and grow our company into the source people can turn to for an honest discussion about ensuring safety and stability as they enter the next chapter of their lives.
I look forwarding to helping you,
Jeff Evanier