Retirement Planning
Proper planning is key – whether heading towards retirement or already retired. In the beginning of your career, your goal is accumulation, but the closer you are to retirement, the more your mindset should move towards preservation.
Wealth Accumulation

Wealth Preservation
What is Your Goal? Safety & Growth
---
Everyone wants safety and growth for their nest egg.
The problem?
The stock market provides growth, but at a high risk.
CDs provide safety, but have low returns.
The solution?
Fixed-Indexed products provide growth-based on stock market returns AND are guaranteed safe – never lose a single penny!
Historical Performance of the Stock Market vs. Our Fixed-Indexed Annuity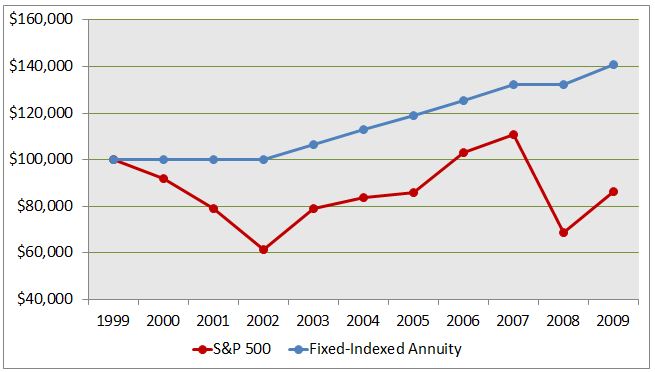 What is Your Goal? Short-Term Investment
---
Invest for 3 years and earn 2.00%*
Invest for 5 years and earn 3.10%*
Invest for 8 years and earn 3.35%*
Better rates than a CD and deferred taxes! With a CD, you have to pay on your interest earned every year. By leaving your money in one of our short-term annuities, you can reduce your taxable income, keeping it below the level where you would begin to owe taxes on your Social Security benefits.
*Rates based on July 2017 availability. Subject to change.
What is Your Goal? Guaranteed Income for Life
---
Back in the 1980s, the average retirement lasted about 10 years. Today, however, many retirements are going 15 to 30 years. This means your money needs to last a lot longer, resulting in a new worry: the fear of outliving your money.
Get a fixed amount coming in ​every month for as long as you live.
Or include a spouse and the fixed amount will continue as long as one of you is alive.
Start-up bonuses ranging from

6%

to

45%

are added to your income principle to get you the largest income stream possible.
Let us shop around for you. We can compare multiple, top-rated companies to find you the highest income available to you.
No annuitization needed.
This means that your beneficiaries will inherit any remaining funds – NOT the insurance company. Your hard-earned money should stay with your loved-ones.
Start your income stream when you're ready.
Start getting your monthly deposits next month or let it grow for a few years until you need it.
For more information about the retirement planning services that we provide for individuals and households throughout Florida, read the articles below: